Deadline to Register:
Friday, December 16, 2022 - 8:30pm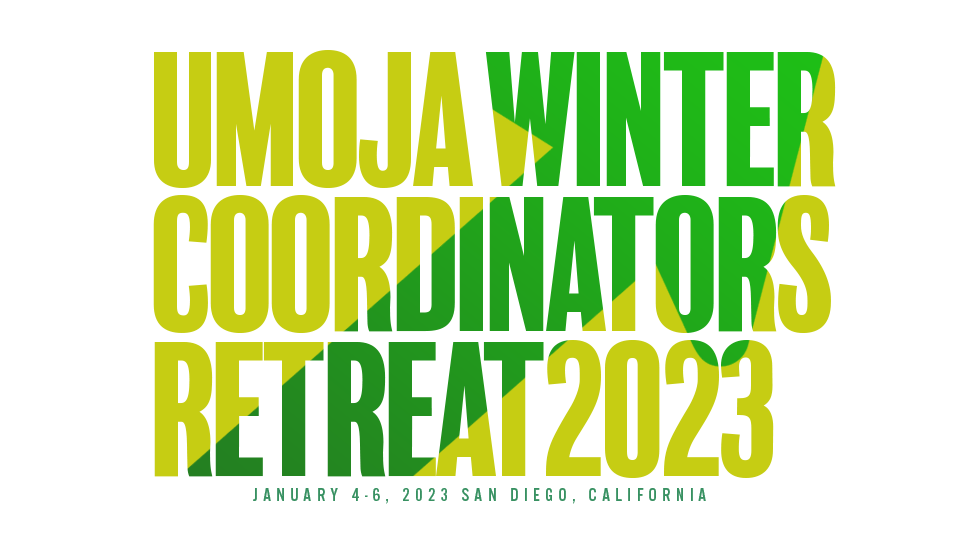 November 17, 2022 Update:
The Umoja Community Education Foundation is excited to welcome all Umoja Coordinators to the 2023 Annual Winter Retreat. The Winter Retreat is a convening of the Umoja community coordinators to set the tone for the year and collaborate and share strategies with other Umoja practitioners and partners.
This year the Winter Retreat will be tentatively held at the Rancho Bernardo Inn in San Diego, CA  from January 4-6, 2023. The room reservation link is forthcoming. (Do not contact the hotel until further notice.)
For this event, we will accommodate one Umoja Coordinator (Primary) with a complimentary single or double occupancy room (for January 4-6, 2023) based on availability and one complimentary registration. If you have multiple coordinators that serve as a Co-Coordinator for your program, one additional coordinator will be required to pay their own registration and lodging costs. The maximum of coordinators that can attend the event per campus is a total of two coordinators.
Each Umoja Program will receive*:
1 complimentary registration with two nights of hotel accommodations for 1 Coordinator with 4 meals.
*We will allow only one additional coordinator to register from your institution, for a maximum of two (2) representatives per campus, with the full lodging and registration being provided for only the primary coordinator.
All registered attendees will receive:
4 Meals including Lunch on January 4, breakfast and lunch on January 5, and breakfast on January 6. There will be a reception on January 4th with light refreshments.

Participants should plan for dinners on their own. (Click here for onsite restaurant options)

All participants should expect to cover their own dinners.
Important Travel Information:
Travel expenses will be the responsibility of attendees. This includes flight, ground transportation, and parking.

Attendees who live 30 miles or less away from the hotel will not be provided a hotel room. 

All participants will be responsible for making their own hotel arrangements and will need a credit card on file for incidentals. Complimentary nights will be adjusted prior to checkout.
Registration

Hotel Accommodations

Primary Coordinator* (1 only)

Complimentary

Complimentary 2-night stay in single/double occupancy room.

$189 per night + Tax for additional nights.

Co-Coordinator / Affiliate Program Coordinators/Partners**/ Pilot Program Coordinators / Interested Campuses

$125

$189 per night + Tax
* Coordinators at California Community College campuses with an established MOU
**No campus or partner organization may have more than 2 representatives. Space is limited for this event.
Tentative Schedule*
Wednesday, January 4, 2023

11:00 AM

1:00 PM

Registration

12:00 PM

1:00 PM

Lunch

1:00 PM

5:00 PM

Opening Ritual & Sessions

6:00 PM

7:30 PM

Networking Reception

Thursday, January 5, 2023

7:30 AM

9:00 AM

Breakfast

9:00 AM

12:00 PM

Session 2

12:00 PM

1:00 PM

Lunch

1:30 PM

5:30 PM

Session 3

Friday, January 6, 2023

7:30 AM

8:30 AM

Breakfast

8:30 AM

11:00 AM

Closing Session
Travel:
HOW DO I GET TO RANCHO BERNARDO INN?
From LAX (~2 hours)
Take 405 South to the 5 South to Oceanside. Take Route 78 East to Interstate 15 South at Escondido. Take the Pomerado Road exit and make a slight right on to Pomerado Road. Turn right at Greens East Road. Follow Signs from there.
From San Diego Airport/Downtown (~35 minutes)
Take Harbor Drive South (toward downtown) and turn left at Grape Street. Go east to the top of the hill then take Interstate 5 South. Stay in the right lane and follow 163 North toward Escondido. Take the Rancho Bernardo Road exit east to Pomerado Road (5th light). Turn left at Pomerado Road. Turn left at Greens East Road (1st light). Follow signs from there.
WHICH AIRPORT IS CLOSEST TO RANCHO BERNARDO INN?
San Diego Airport is approximately 35 minutes away.
Lodging:
Please note the following and book your hotel room!
Umoja will not be responsible for fees associated with valet services, housekeeping, room service, bar service, a $40 occupancy fee (for rooms with more than 2 persons), and other incidentals. Umoja will cover room, board, and tax for the nights of Wednesday, January 4, 2023, and Thursday, January 5, 2023, only. You are responsible for additional nights. 
Upon making your reservation, your card will be charged for one night's room and tax. At the time of check-out, that amount will be credited to you, assuming you are only staying two nights.
Our Office Manager, Brenda Harrison will be partnering with the hotel staff to ensure that your billing and accommodation are correct. If you have any challenges before or after the event, please e-mail info@umojacommunity.org.
GROUP INFORMATION
Group Name: Umoja 2023 Winter Coordinators Retreat
Passkey Booking Link:  https://book.passkey.com/go/UmojaWinter
Reservations Due Date: Friday, December 16th, 2022 
Resort Fee:  Waived
Overnight Parking: $40 Valet & Waived Self-Parking
Check in time: 4 PM
Check out time: 11 AM
The hotel prefers that you book via the weblink; however, for those looking to speak with a reservations agent, please have them call 844-226-8262 and ask for the Umoja 2023 Winter Coordinators Retreat group rate. 
The office hours of our reservations department are as follows:
Monday-Friday: 8 AM - 8 PM
Saturday & Sunday: 8 AM - 6 PM
(Pacific Standard Time)
Please also submit your rooming list to me (rbigrouprooms@jcresorts.com) no later than 2 pm (PST) on your noted Reservation Due Date (12/16/2022).  I have attached a rooming list template for your staff rooms and suites.