Deadline to Register:
Friday, May 26, 2023 - 12:15pm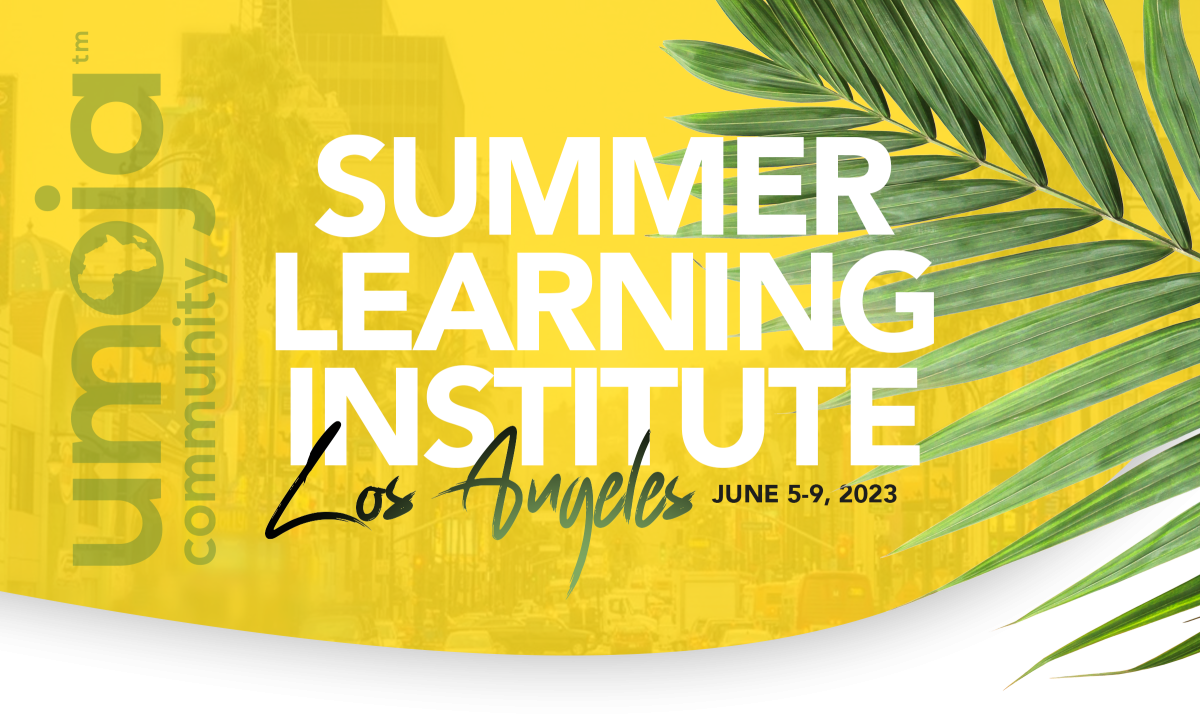 The Summer Learning Institute brings together Umoja practitioners from California and Washington to reinvigorate and re-engage them in the Umoja principles of practices. This week-long event supports the Umoja mission to enhance the cultural and educational future of African American and other students. As the institute focuses on strengthening Umoja programs, Umoja curriculum, and campus support services that contribute to the illuminative experiences of the Black student we encourage each campus to bring a multidisciplinary team of Umoja practitioners and champions, including the Umoja program coordinator, Umoja counselors, new and returning Umoja faculty, classified professionals, and administrators.
Key Details:
Date: June 5-9, 2023
Location: LAX Hotel
Airport: LAX
Day 1 – Monday, June 5, 2023
11:30 AM – 1:00 PM Lunch/Arrival
1:00 PM – 4:30 PM General Session: New Program/Coordinator Orientation

New California Community College Programs
Washington State Affiliate Programs
University of California/California State University Programs
Day 2– Tuesday, June 6, 2023
1:00 PM – 2:15 PM Community Gathering/Opening Ritual
2:15 PM – 2:30 PM Break
2:30 PM – 3:45 PM General Session – Keynote – Dr. Bettina Love
3:45 PM – 4:00 PM Break
4:00 PM - 5:00 PM General Session – Reconnecting with the Umoja Practices
5:30 PM - 7:00 PM Evening Reception
Day 3- Wednesday, June 7, 2023
7:30 AM – 9:00 AM Breakfast
9:00 AM – 10:15 AM General Session
10:15 AM – 10:30 AM Break
10:30 AM – 12:00 PM Concurrent Sessions (2 TRACKS) 
12:00 PM – 1:30 PM Lunch on your own
1:30 PM – 3:30 PM Concurrent Sessions (2 TRACKS) 
3:30 PM – 3:45 PM Break
3:45 PM – 5:00 PM General Session
5:30 PM – 7:00 PM Community Space
Day 4- Thursday, June 8, 2023
7:30 AM – 9:00 AM Breakfast
9:00 AM – 10:00 AM General Session
10:00 AM – 12:00 PM Concurrent Session (3 TRACKS)
12:00 PM – 1:30 PM Break/Lunch on your own
1:30 PM – 2:30 PM Break/Prepare for White Ceremony
2:30 PM – 5:00 PM White Ceremony & Photo
Day 5 - Friday, June 9, 2023
7:30 AM – 9:00 AM Breakfast
9:00 AM – 11:00 AM General Session: Headshot and Networking Opportunities