Deadline to Register:
Friday, December 18, 2020 - 5:00pm
LDue to COVID-19, our Summer Learning Institue was postponed, but we are pleased to share that we are bringing it to you this winter!
The Summer Learning Institute (SLI) is an intensive professional development retreat designed to engage Umoja Community program staff and Umoja college stakeholders and administrators.
SLI will focus on immersing attendees in the philosophy, pedagogy, theoretical foundations, and best practices based on the Umoja Community model.
Educators from California Community Colleges have the opportunity to engage in courageous and bold discussions with other Umoja Community program staff.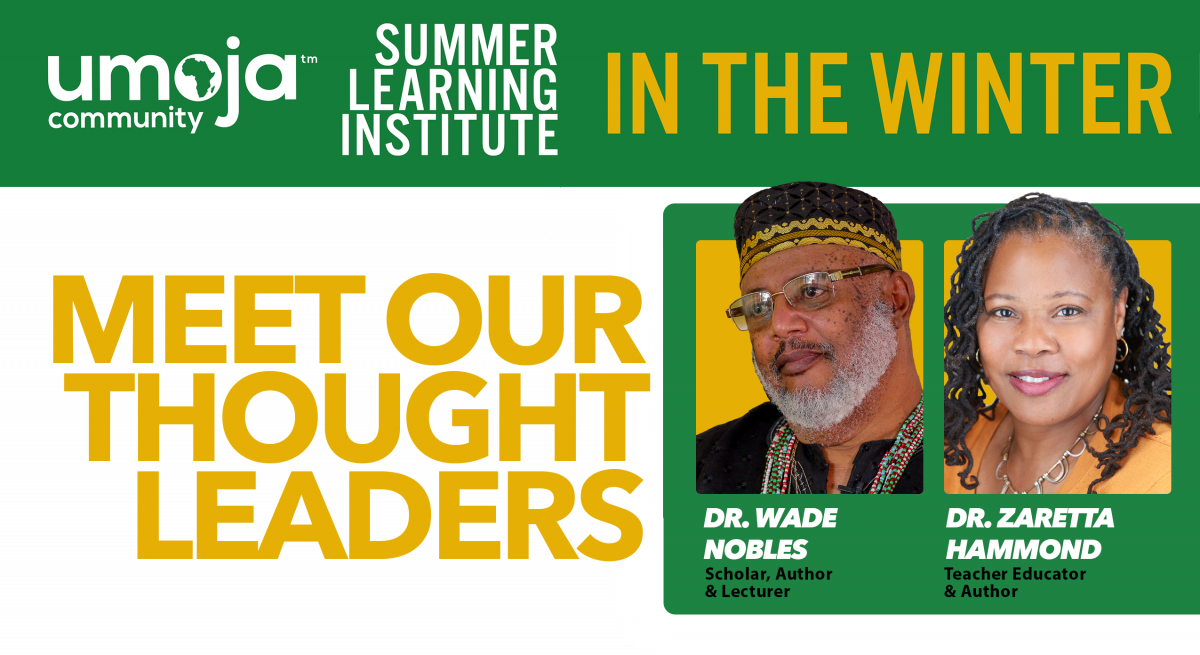 Zaretta Hammond, M.A. is a national consultant and author of Culturally Responsive Teaching and the Brain: Promoting Authentic Engagement and Rigor for Culturally and Linguistically Diverse Students (Corwin, 2015).
She is a former high school and community college expository writing instructor who is passionate about the intersection of literacy, equity, and neuroscience. She supports districts and schools in deepening their understanding and application of culturally responsive practices to accelerate student learning. She has published in Educational Leadership, The Learning Professional, and Phi Delta Kappan.
Ms. Hammond sits on the Board of Trustees of the Center for the Collaborative Classroom, is a member of the science advisory committee of the SoLD Alliance as well as Consortium for Reading Education
Dr. Wade W. Nobles, is a professor emeritus in the Department of Africana Studies, the School of Ethnic Studies at San Francisco State University and is the founder and Executive Director of the Institute for the Advanced Study of Black Family, Life, and Culture, Inc. in Oakland.
As the director of the Institute for the Advanced Study of Black Family Life & Culture, Inc., Dr. Nobles has served as the leader of numerous community-based development initiatives. He has written and conducted over sixty-seven funded community-based research, training, and development projects. His specific research interest includes African-centered education, African psychology, Black self-concept, racial identity formation, and human authenticity, cross-cultural and ethno-human functioning, socio-political systems and psycho-cultural development, African-American family dynamics, psychological aspects of mythology, Black child development and parenting, systems of human transformation, African spirituality and traditional African healing systems. A founding member of the Association of Black Psychologists and former national President (1994-95).
SCHEDULE