Deadline to Register:
Friday, February 12, 2021 - 6:30pm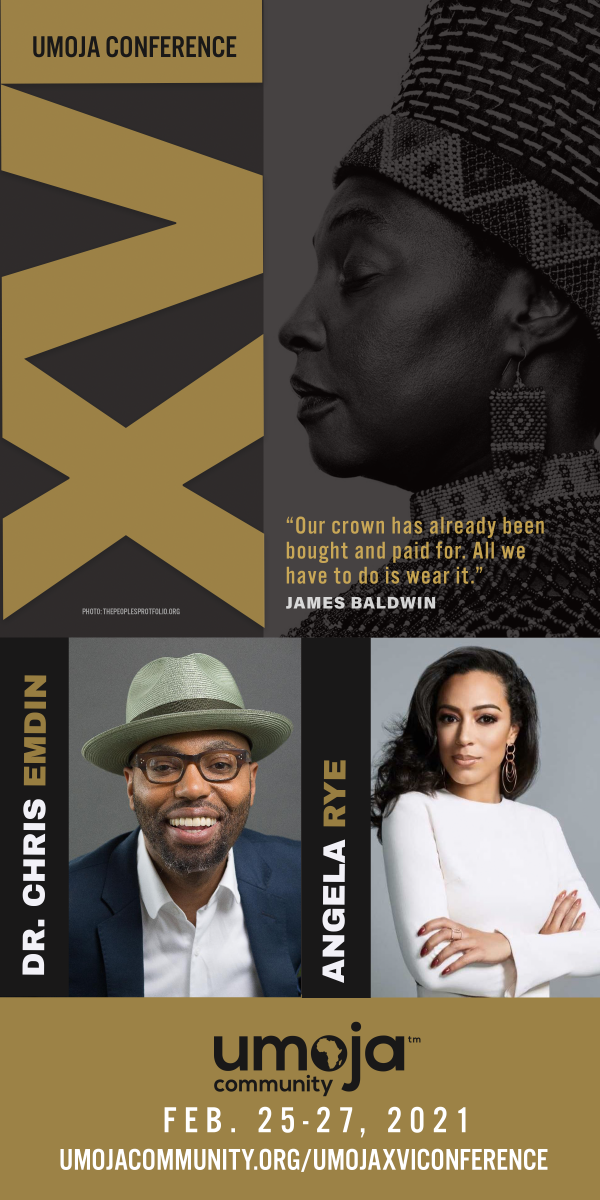 Join us for Umoja Conference XVI! This year's virtual Umoja Conference will feature:
Powerful workshops
Engaging speakers
Exciting Raffles
Conscious Entertainment
Virtual Fellowship
Much more!
Take advantage of our campus discount rates for Umoja Affiliated programs by registering a group! All names of participants (including their titles) must be submitted at the time of registration.
Early registration will close on February 5, 2021. Late registration will close on February 10, 2021. If you purchase your ticket during late registration, please note that conference swag and supplies may not be received until after the event.
All payments must be paid in full prior to the conference and refunds will not be issued after February 16, 2021.
QUICK LINKS
FAQS
Is my registration/ticket transferrable?
Your registration is transferable, please contact the Umoja Office in writing at info@umojacommunity.org
Please make sure to revisit the Eventbrite webpage to transfer your registration per the website instructions.
What is the cancellation/refund policy?
Please remember that the last day to cancel your registration is 7 days prior (Feb. 16, 2021) to the event. Cancellations must be submitted in writing to info@umojacommunty.org on or before the posted date. Registration will not be canceled due to non-payment.
Full Refunds will not be granted for cancellations after the posted cancellation deadline.
Cancellations made less than 7 days prior to the event will be billed the full registration amount for the conference.
Colleges will still be billed for registrants that did not attend or open tickets purchased for unidentified registrants, and/or cancellations made after the deadline.
By registering, you are agreeing to submit payment and acknowledging this policy.
Unpaid balances must be paid prior to event registration.
The name on the registration/ticket doesn't match the attendee. Is that okay?
All attendee registrants must match the ticket. If you would like to transfer your registration, cancel the first one, then register the second attendee online. If a payment transfer needs to be made because a payment was made by check, you must contact the Umoja Office immediately with a written notification at info@umojacommunity.org
CLICK HERE FOR CALL FOR PROPOSALS PAGE
https://umojacommunity.org/UmojaXVICFP
ABOUT OUR SPEAKERS:
Dr. Christopher Emdin is an Associate Professor in the Department of Mathematics, Science and Technology at Teachers College, Columbia University; where he also serves as Director of the Science Education program and Associate Director of the Institute for Urban and Minority Education.
He is an alumni fellow at the Hutchins Center at Harvard University and served as STEAM Ambassador for the U.S. Department of State and Minorities in Energy Ambassador for the U.S. Department of Energy.
Dr. Emdin is a social critic, public intellectual, and science advocate whose commentary on issues of race, culture, inequality and education have appeared in dozens of influential periodicals including the New York Times, Wall Street Journal, and Washington Post. [Read More]
Angela Rye is Principal and CEO of IMPACT Strategies. Developing tailor-made solutions for high profile clients, Rye is highly sought after for her practical, commonsense approach to political strategy, issue advocacy, and public engagement. Featured as an influential politico, lawyer, and advocate by several publications and outlets from Marie Claire to Ebony and the Washington Post, Rye has an unwavering commitment to ensuring positive change in the political process. As a respected political strategist, Rye is often called upon for her candid, timely commentary on a multitude of topics. She is a regular on-air personality on several media outlets including BET, CNN, MSNBC, and TV One.
The depth of her dialogue ranges from political campaigns to more complex legislation that bears long-term implications nationally and internationally. Across the Nation, Rye engages in challenging conversations with private sector leaders, civil rights advocates, social justice proponents, and community organizers. She has become a critical voice of conviction on many of the most pressing issues of our time including national politics, race in America, criminal and social justice, and other public policy issues. Rye served as the Executive Director and General Counsel to the Congressional Black Caucus for the 112th Congress. In her role as Executive Director, Rye was tasked with developing the overall legislative and political strategy for the Caucus.
Prior to her tenure with the CBC, she served as Senior Advisor and Counsel to the House Committee on Homeland Security under the leadership of Congressman Bennie G. Thompson (D-MS), Chairman. There she was charged with developing the general political strategy for the Committee with a focus on streamlining government contracting practices and opening doors of opportunity for small businesses. [Read More]