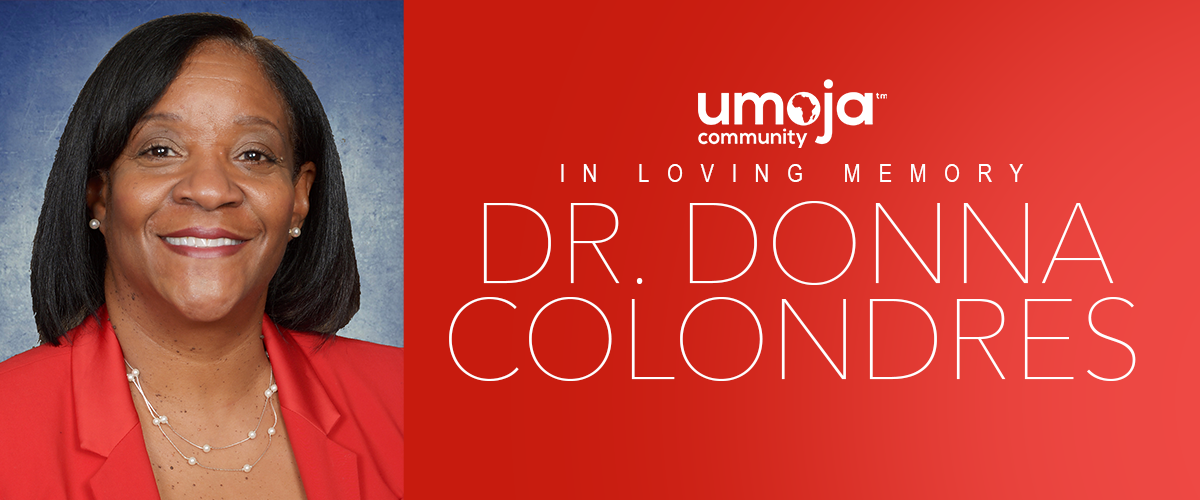 Greetings Beloved Community,
With heavy hearts, Umoja Community Education Foundation founders, board and staff regret to inform you of the passing of Dr. Donna Colondres. Dr. Colondres was a devoted founder and leader within the Umoja Community organization as well as the founder and former coordinator of the Umoja program (originally known as AMAN/AWOMAN) at Chaffey College in Rancho Cucamonga, California.
In collaboration with other community college faculty and staff from around the state, Dr. Colondres served as a member of the original governing body that crafted the statewide model, organizing principles and original mission statement of what we know today as the Umoja Community Education Foundation. Dr. Colondres, like the other faculty and staff, saw a need and felt a burning desire to do more to affect positive outcomes and support the success of African American students attending California Community Colleges. Their work began after a one-day conference at Diablo Valley College in the fall of 2006. Over the next eight months, these leaders worked tirelessly to bring Umoja to fruition. In 2007, Umoja, as a grassroots organization, built a coalition and began the critical work of launching new Umoja programs in community colleges up and down the state. In 2008, the Umoja Community was officially recognized by the California Community College Board of Governors (CCCBOG) as a legitimate statewide student success program. Dr. Colondres and other founders continued to fight passionately and strategically over the next 15 years to secure funding to solidify Umoja's presence in the California Community College system and to support the work of Umoja that began with no money and no permission. Now at 72 Umoja programs, the work of the founders created one of the largest, most impactful, and longest-running Black student success and faculty development programs in the California Community College system.
During Dr. Colondres' time with the Umoja Community, she served the organization in multiple roles. After the Umoja Community received its first allocation of state funding in 2015, a $1,000,000 student equity grant, the organization became a 501C3 and Dr. Colondres served as a member of the original Board of Directors. When the organization needed staff, Dr. Colondres resigned from her seat on the Board of Directors to serve as a Regional Coordinator and later Co-Director of Regional Coordinators. She also served in an interim capacity as the Co-Executive Director along with fellow founder, Mr. Tom deWit. Dr. Colondres also played an intricate and vital role in developing the Umoja Practices and as a trainer for new staff as the organization grew and expanded. Dr. Colondres was instrumental as well in solidifying the expansion of Umoja outside of California in the state of Washington.
Dr. Colondres retired from Chaffey College in July of 2021. As a counselor and faculty coordinator of the Chaffey Umoja program (formerly AMAN/AWOMAN), "Mama Donna" as she was affectionately known, mentored and counseled hundreds of students over her many years of service. She went above and beyond to ensure that her students were fully supported and was known to do "walking counseling," which meant that if students did not come to her during her counseling hours in her office, she would find them on campus and walk with them to counsel them and check in with them to see how they were doing.
Dr. Colondres' greatest legacy will be that she offered her gifts unconditionally. She spent hours with Umoja practitioners, staff, and founders teaching, mentoring, advising, and sharing stories, laughter, and joy. She brought light, wisdom, and kindness to our lives and always affirmed our hopes, goals, and beliefs.
Kenyon Callahan, a former student of Dr. Colondres says:
"Dr. Donna Colondres was more than my professor and mentor; she was a second mother and my friend. Donna never stopped encouraging me to do better and be better. When I was at my worst, she didn't see me for who I was at that moment, but she saw me for who I could be. She never judged me or looked down on me. She lifted me up and told me I am somebody. Dr. Donna Colondres will always be a part of me. I am her legacy and for as long as I live, I will live up to what Donna saw in me. I will take the things she taught me and apply them in my life. When Donna walked through a door of opportunity, she pulled everyone who wanted to go with her. There will only ever be one Dr. Donna Colondres and I am blessed to have had her in my life for half of my life."
Dr. Ernie Bridges, Umoja Elder shares of Mama Donna:
"I called her Queen Mother because of her loving and giving spirit. She would insist on breaking bread before any conversation. Her approach with us and her students was personable, and her advice was always warm."
Dr. Trelisa Glazatov, Umoja Curriculum Designer offers:
"Mama Donna impressed an indelible amount of love and wisdom on all who were gifted with a moment with her. Her stories (the EP version) will remind me of the richness of her life and the legacy work she left for us to continue. Her resounding laugh will remind me of the joys of living fully and freely and her lasting hugs will remind me of how deeply she loved us."
Jeri Marshall, Umoja founder, and elder says of Dr. Colondres:
"It's inevitable, love emerges when the spirit of Umoja abounds."
Dr. Colondres was truly a blessing to us all. She was in love with life and all its possibilities. She was an entrepreneur, sharing a business with her sisters and sons, as well as a crafter, indulging in various creative activities. In her zeal for life, she instilled confidence in her students that they could walk through any door that they chose. She loved them and she taught them to always love themselves. Her infectious energy was inspiring.
An African proverb teaches: "A village without an elder is like a well without water." The Umoja community is blessed to have been graced with the many gifts and talents and especially the love of Dr. Colondres. Her warmth, wit, and loving spirit will be deeply missed. Her legacy is forever cemented in the fabric of the Umoja Community as well as in our hearts. We will always drink from the well of Mama Donna when we call on her as an ancestor to guide us in our continued struggle for freedom, access, and opportunities for our students.
To her children, grandchildren, siblings, extended family members, and those in the community who had a personal bond with her, we send our condolences. We grieve with you and pray that the beautiful memories she created with you will serve as a blessing and provide healing over time.
Umoja will host a celebration honoring the life and the work of Dr. Colondres in an upcoming special ceremony. Details will be shared in the coming days.
On behalf of The Umoja Community Education Foundation,
Nzingha S. Dugas, Executive Director​ Dr. Darla Cooper, Umoja Board President
Dr. Teresa Aldredge, Umoja Board Member and Founder Dr. Judy Mays, Umoja Board Member and Founder
Jeri Marshall, Umoja Board Member and Founder Dr. Ernie Bridges, Umoja Board Member and Founder