Deadline to Register:
Thursday, May 16, 2019 - 5:00pm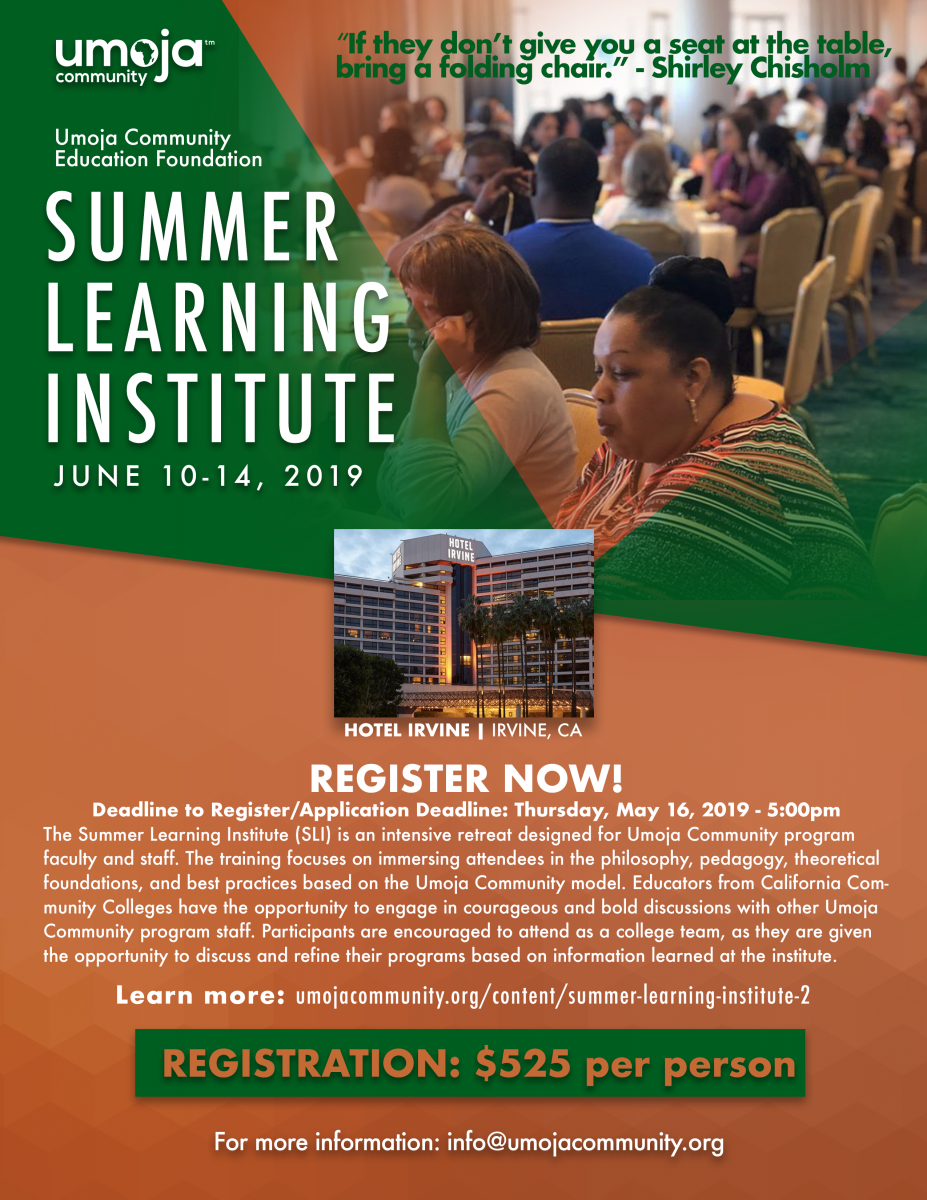 The Summer Learning Institute (SLI) is an intensive retreat designed for Umoja Community program faculty and staff. The training focuses on immersing attendees in the philosophy, pedagogy, theoretical foundations, and best practices based on the Umoja Community model. Educators from California Community Colleges have the opportunity to engage in courageous and bold discussions with other Umoja Community program staff. Participants are encouraged to attend as a college team, as they are given the opportunity to discuss and refine their programs based on information learned at the institute. Examples of content presented at the SLI include program structure and implementation, elements of African customs and rituals, and cultural applications for teaching English, math, and college success/guidance courses.
This year, the Summer Learning Institute will be held at the beautiful Hotel Irvine in Irvine, California. The Summer Learning Institute is an important step in becoming affiliated with the Umoja Community. Umoja practitioners around the state are invited to participate in this intensive week-long training in Umoja practices and pedagogy. Currently, affiliated colleges are also encouraged to bring new team members to the training.
Registration: The registration is $525 per person and covers most meals, all materials, internet in meeting space and resort fee.
Registration for this event is now closed. Please contact the Umoja office for more information.
Travel:
Travel Information: You are responsible for your flight and other travel arrangements for this event. The closest airport is the John Wayne International Airport.
Ground Transportation: The Hotel Irvine offers an airport shuttle service to and from the John Wayne Airport. There are also taxi service, Uber, and Lyft available to travel to the hotel. 
Lodging:
Hotel Reservations: Lodging is not included in the registration fee and you are responsible for making your own room reservations. You can make reservations online, here or by calling the hotel reservation line at 877-614-2137. When calling you will need to provide the agent with the group name -- Umoja Community SLI.
The room rates are as follows: $155  (single and double) $175 (Triple), and $195 (Quad)
Hotel Parking: Complimentary self-parking during the day; $19 overnight parking
Schedule Description:
Summer Learning Institute
June 10 – 11, 2019
Hotel Irvine, Irvine California  
Preliminary Program
 
If they don't give you a seat at the table, bring a folding chair." Shirley Chisholm
Day 1 – Monday, June 10, 2019 – Umoja – Unity
Registration:   1:00 pm to 2:00 pm
SLI Begins:       2:00 pm – 6:00 pm
Light Snack and Dinner Provided
Purpose: Welcome to Umoja
Magnified Practices: Umoja as a Power Base
Registration
Welcome and Ritual – Akwaaba
General Session: Welcome to the Umoja Community

The History of Umoja and History of the Summer Learning Institute
The State of the Umoja (Sotu)
Umoja's Impacted on Our Students' Experiences

Dinner
Day 2 – Tuesday, June 11, 2019 - Ujima - Collective Work and Responsibility
8:30 am – 10:00 pm
Breakfast, Lunch, and Dinner Provided
Purpose: What is Umoja
Magnified Practices: Everybody's Business, Community – Building Communal Intelligence
General Session:  State of Black Scholars in Education for Umoja
Thought Leader:  Trauma Informed Care, Dr. Tiffany Mims
General Session: How to Begin the Healing
Dinner
Evening Activity:  Everybody's Business 
Day 3 – Wednesday, June 12, 2019 – Nia – Purpose
8:30 am – 10:00 pm
Breakfast and Lunch Provided
Purpose: Umoja in Action, Why Umoja
Magnified Practices: Intentional & Deliberate, Live Learning, Tapping African American Intellectual, Spiritual, and Artistic Voices
General Session:  Umoja and Guided Pathways
Live Learning Demonstrations – Pedagogy and Program Design
Evening Activity:  Live-Learning Demonstrations 
Day 4 – Thursday, June 13, 2019 – Kuumba – Creativity
8:30 am – 10:00 pm
Breakfast, Lunch, and Dinner Provided
Purpose: Team building and partnerships
Magnified Practices: Manifesting, Mentoring
General Session:  Umoja Training – CRM, Marketing, Team Time
Dinner
Evening Activity: White Ceremony 
 
Day 5 – Friday, June 14, 2019 – Imani – Faith
8:30 am – 11:00 am
Breakfast Provided
Purpose of the day: Recap, Inspiration and Commitment
Magnifying the practices: Gifting, Ethic of Love                                                 
General Session: Closing Ceremony
Closing Ritual