Deadline to Register:
Friday, October 18, 2019 - 5:00pm

November 1-2, 2019
"If they don't give you a seat at the table, bring a folding chair." - Shirley Chisholm
The Umoja XV Conference theme invites participants to engage in a critical dialogue about the challenges that impact African American students attuned and the legacy of the African Diaspora. At the Umoja XV Conference, students, partners institutions, and other stakeholders will be actively engaged in exploring solutions that ensure student success for African Americans.
The conference will feature empowering speakers, culturally relevant discussions, and networking opportunities for more than 1,200 attendees. Attendees will explore our intersectional identities and strategize to bring the change our communities need.
Registration Fees: The registration fees are as follows:
Umoja General Registration- $495.00
Approved Presenters Registration - $395.00
Umoja Student Registration - $295.00
Registration includes 4 meals and conference materials.
Sponsorship: Partner with the Umoja Community Education Foundation through sponsorship of the Umoja XV Conference. We have several contribution levels for all organizations, corporations, and individuals. The four levels of sponsorship include:
Platinum $15,000
Gold $10,000
Silver $5,000
Bronze $2,500
Umoja has a series of conference events that can be sponsored by our community members. Those events include:
The Umoja VIP Reception Sponsor
Edutainment Sponsor
College/Career/Vendor Fair Sponsor
To view the Sponsorship Letter for more information. To discuss opportunities to partner, contact Dominique Beaumonté at dbeaumonte@umojacommunity.org or at 916-661-6455.
Be a conference vendor: We would like to expose our conference attendees to African American student-friendly colleges, businesses, and resources. We are inviting colleges and community vendors to participate. For more information, download the Umoja vendor form.
Registration FAQS
Is my registration/ticket transferrable?
Your registration is transferable, please contact the Umoja Office in writing at info@umojacommunity.org
Please make sure to revisit the Eventbrite webpage to transfer your registration per the website instructions.
What is the cancellation/refund policy?
Payment is required before entering an Umoja event.
Please remember that the last day to cancel your registration without penalty is 7 days before the event. Cancellations must be submitted in writing to info@umojacommunty.org. Please make sure to revisit the Eventbrite webpage to transfer your registration per the website instructions.
Registration will not be cancelled due to non-payment.
Full Refunds will not be granted for cancellations after the posted cancellation deadline.
Cancellations made less than 7 days before the event will be billed the full registration amount for the conference.
No shows, unclaimed "TBA" attendees, and cancellations made after the deadline will be billed to you and/or your college for the total cost of registration. As attendees are permitted to register without funds, we have no way of determining cancellation unless specifically told, in writing.
It is your responsibility to ensure payment of the registration fee. Submission of your registration signifies agreement with this policy.
Unpaid balances owed to Umoja Community must be paid before an attendee can register for a future event.
The name on the registration/ticket doesn't match the attendee. Is that okay?
No. All attendee registrations must match the ticket. If you would like to transfer your registration, you must cancel the first one, then register the second attendee online. If a payment transfer needs to be made because payment was made by check, you must contact the Umoja Office directly with a written notification at info@umojacommunity.
For additional information email info@umojacommunity.org.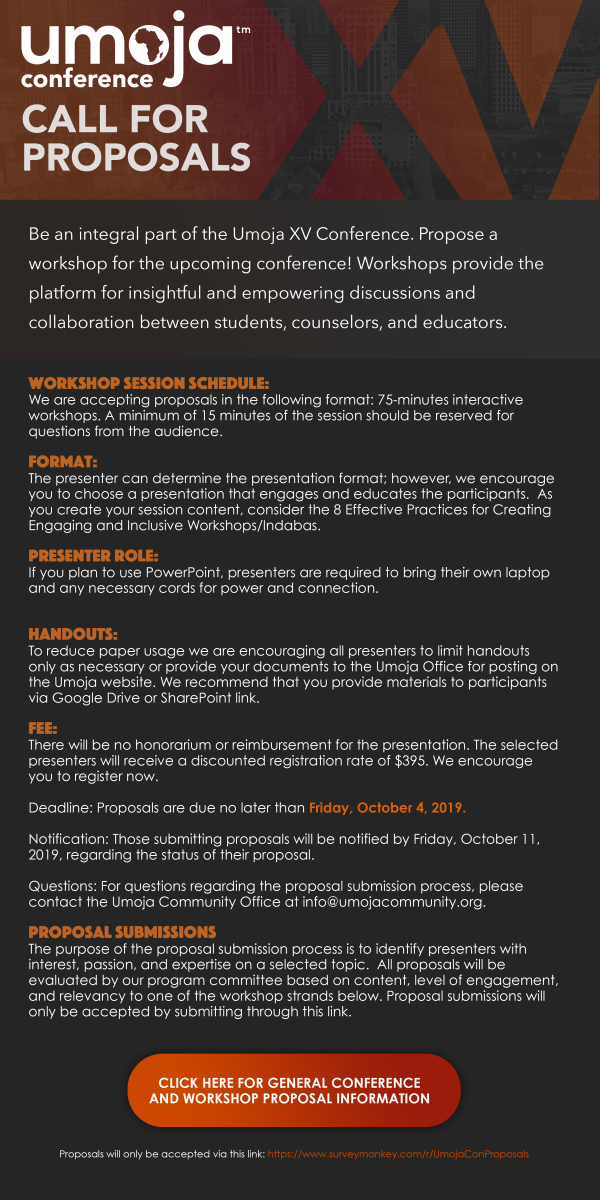 Call for Proposals
Submit a workshop proposal for the Umoja XV Conference in Oakland, CA! Proposals are due no later than Friday, October 4, 2019. Click here for more information.
To submit a proposal: https://www.surveymonkey.com/r/UmojaConProposals
Oakland Marriott-City Center and Convention Center
1001 Broadway
Oakland, CA 94607
Travel:
Travel Information: You are responsible for your flight and other travel arrangements for this event. The Marriott City Center and Convention Center is located nine miles from Oakland International Airport (OAK) and 23 miles from San Francisco International Airport (SFO). Travel arrangements should be secured at least three weeks in advance to secure the best rate. Coordinators may consider using the Southwest Airlines Group travel option. This allows for groups to book travel in advance and make name/traveler information changes up to 72 hours prior to travel date. Groups can also pay a deposit upon booking and the remaining balance at a later time. As this is only available for groups with a minimum of ten travelers, schools are encouraged to partner with other coordinators traveling from the same airport. More information can be found here.  
If possible, we encourage you to share rides and explore all travel options, including BART from the airport to the hotel.
Parking: Overnight parking is available for hotel guests at a discounted rate of $20 per day (17.50 with no in/out privileges). Hourly parking for attendees that are not hotel guests and valet parking are at standard rates. 
Lodging:
Hotel Reservations: Lodging is not included in the registration fee and you are responsible for making your own room reservations. It is suggested that your group make reservations for Thursday night in preparation of an 8:00 am start on Friday! 
Marriott: Our group rate for single and double guestrooms is $169 per night. Online and phone reservations will be accepted. A dedicated booking website has been created for our event so you are able to make, modify and cancel your hotel reservations online, as well as take advantage of any room upgrades, amenities or other services offered by the hotel.
To reserve your room(s) online, please click the following link:
https://book.passkey.com/e/49897167
To reserve your room(s) via phone, please call 877-901-6632 and reference the UMOJA CONFERENCE.
Deadline to make hotel reservations at this rate is Wednesday, October 9, 2019.
Schedule Description:
Thursday, October 31, 2019
8:30 pm - 11:00 pm Open Mic & Cultural Night W/DJ
Friday, November 1, 2019
7:00 am - 4:30 pm Attendee Check-In
8:00 am - 5:00 pm College Fair & Sponsor Exhibits
8:00 am - 9:00 pm Breakfast
9:00 am - 10:00 am Welcome & Opening Ritual
10:00 am - 11:30 am Keynote Speaker + Q&A
11:45 am - 12:45 pm Lunch + Lunch Speaker
1:15 pm - 2:30 pm Workshop Session 1
2:30 pm - 2:45 pm Break
2:45 pm - 4:00 pm Workshop Session 2
4:15 pm - 6:00 pm Umoja College and Vendor Fair
6:00 pm - 9:00 pm Night on the Town: Experience Oakland!
9:00 pm - 11:00 pm Umoja Late Night Activity
Saturday, November 2, 2019
7:00 am - 10:00 am Attendee Check-In
7:30 am - 8:30 am Breakfast
8:45 am - 10:15 am Keynote Speaker + Q&A
10:15 am - 10:55 am Speaker Meet and Greet
11:00 am - 12:15 pm Workshop Session 3
12:25 pm - 1:00 pm Closing Ritual
1:00 pm - 1:30 pm Box Lunches